News
Bismarck Tribune
Last-minute trial cancellations corner protesters
CAROLINE GRUESKIN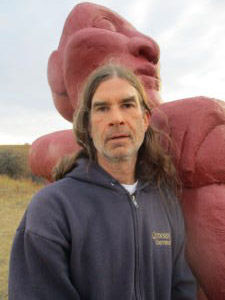 Jeff Hush was one of 126 protestors against theDakota Access Pipeline arrested on Oct. 22
Jeffrey Hush, a Dakota Access Pipeline opponent arrested during a protest in October, was headed back to North Dakota this week.
He was to face trial on charges of criminal trespass and engaging in a riot on Friday. Hush charged two plane tickets — one for himself and one for a friend to serve as his witness — from Middletown, Conn., to Bismarck.
"I was told I could count on trial, so I could buy the plane tickets," Hush said.
Week by week, the Morton County State's Attorney's office has dismissed cases such as Hush's, which arose from a mass arrest on Oct. 22, when 126 protesters were jailed during a demonstration against the Dakota Access Pipeline.
So far, 34 cases have been dismissed, just days before trial was scheduled, according to Sandra Freeman, criminal case coordinator for the Water Protector Legal Collective.
The situation has put some protesters in a bind.
Hush, a movement therapist who qualified for a public defender, said he can hardly afford to pay for the non-refundable plane tickets he bought. And he does not think he could buy tickets for another trial.
"Essentially, they're trying to force me to plea bargain," said Hush, who maintains his innocence.
Defense attorneys involved in these cases said prosecutors are offering protesters a deal in which they can plead guilty to a Class B misdemeanor, with a penalty of no jail time and forfeited bond money, or they can wait to be re-charged with another crime.
Two phone messages and an email message left for Brian Grosinger, the prosecutor handling the cases, were not returned on Wednesday.
The prosecutors have been dismissing the charges, because they were unable, in several instances, to prove criminal trespass cases at trial. A judge found repeatedly that protesters were not given proper notice that they were trespassing.
On Oct. 22, about 200 protesters walked through private property to a pipeline construction site where several people had attached themselves to equipment. They were intercepted by police, who surrounded the group and arrested them. Authorities said, at the time, that protesters tried to breach a police line and turned pepper spray on an officer. Hush said people were leaving during the arrest, and he did not know the land was private.
Freeman said that, so far, three people arrested on Oct. 22 have taken up the state on its plea offer. Three people failed to appear, and bench warrants have been issued for them, she said.
It's not clear yet what crime Hush would face if re-charged. On cases from Oct. 10, the prosecutor has re-charged at least eight people with obstruction of a government function, a Class B misdemeanor, according to court records. No one has yet been re-charged from the Oct. 22 date, Freeman said.
Sunday, May 7, 2017
Whole foods advocate to present 'Eating Like a Champion' workshop at Middletown library
CASSANDRA DAY
Jeff Hush of Middletown is a huge proponent of a whole-food diet and walking briskly five days a week for 30 minutes, which he said is the best path to good health.

Cassandra Day — The Middletown Press
Editor's note: This story has been updated to reflect that this year's One Book by the River Bend selection is "The Boys in the Boat."
MIDDLETOWN >> Jeff Hush will be the first one to admit he has a sweet tooth.
Every day he breaks off two small sections of a large bar of 85-percent dark chocolate and enjoys them — maybe three every once in a while, he said. "It's my drug of choice. But it's taken me years to figure it out."
The North End resident and cofounder of Food & Movement Therapy is convinced that health comes from wise practices, not medical interventions. Hush, who teaches tai chi and yoga and extols the virtues of pilates, wants people to know that the consumption of a whole food diet and a practical regimen of movement will markedly improve their overall well-being.
Hush, 59, is hosting a workshop, "Eating Like a Champion: How Elite Athletes Build their Power," May 31 at Russell Library that will explain, among other things, how people who eat clean foods have so much more energy than the average person.
The program is part of the city's One Book on the River Bend based on "The Boys in the Boat," about the 1936 University of Washington eight-man rowing crew that won the gold medal at Hitler's Olympics.
In college, he realized that more important than physical activity is a solid diet that eliminates all processed foods is the most important component of good health.
"Exercise is not the key thing," said Hush, a student of medical history. "I don't say exercise. I say movement because what matters is that you're moving and you don't have to have an exercise regime but you have to move."
Hush has also studied the effects and overprescribing of opioids. "A combination of the pharmaceutial industry, the hospitals, the insurance companies and doctors, they all fit together in such a way that nowadays 30,000 people a year are dying from opiods — more than are dying from automobile accidents. That change happened in 2008. From 1929 to 2008, the largest number was always an accident," he said.
While he was studying at University of California, Berkeley in 1985, Hush began work on his dissertation about Shakespeare and the bubonic plague. "It's odd that I would get into medicine through literature and through old Greek medicine and Latin medicine — Hippocrates and Galen. The beginning of Western medicine and the Renissance in Shakespeare's time in 1600 was simply a continuation of that," he said.
When he got a job after obtaining his undergraduate degree at the University of Chicago, Hush said, where he taught for three years, the demanding work of college-level teaching prohibited his work toward a doctorate, he said.
His study of medical history has taught him that eating the right foods — vegetables, fruit, whole grains, beans and nuts are the foundation for a healthy life, Hush said.
"You need to eat real foods," said Hush, who became a vegetarian in 1979 and now mostly eats a vegan diet. "People need to eat in different ways. You have to figure out what works but you have to deal with the cravings. You also have to just be honest with yourself and say, 'if I do have this craving, for something like Doritos or a candy bar, what can I substitute for it?' Maybe I can make some sweet potato fries, tons of them one day, and then store them and eat them. It takes work."
He recommends people cut back on the amount of meat and dairy they eat.
"Animal proteins and fats (both meat and dairy) do the opposite: they encourage inflammation in the body. Even if they are organic," Hush said.
He is also a huge proponent of a diet free of processed sweeteners.
"If you simply cut the amount of sugar you eat in half and walk briskly for 30 minutes a day five days a week, all (the chronic diseases like diabetes) would go away."
Those two bars of 85 percent dark chocolate are all the sugar he'll consume a day — which annually totals six pounds of the sweet stuff — exactly the average amount that a typical American or European ate in 1900, he said.
"Food addictions are as intense, I believe, as drug addictions. And that's why we have so many problems with diabetes, heart disease and cancer," Hush said. "The real problem is, and it's a very simple problem, is our consumption of sugar."
"In the upper classes in Europe in the 1700s and on, they started realizing that they were getting weaker and weaker and the working class people — the peasants and the people who worked the land — we much more stronger then them because they didn't have any money to get any of this (junk)," Hush said.
The average American, Hush said, is now eating between 60 and 100 pounds of sweeteners a year.
"Now they don't even know the numbers because there's sugar coming in from so many different areas. If you eat any processed food, you've got sugar," said Hush, who highly recommends "The Case Against Sugar" by Gary Taubes and "In Defense of Food" by Michael Pollan for reading on the subject.
"Sugar is a drug and it's a refined drug and it's a white powder. I mean, just look at the (junk). And you know, the further you get away from that white powder back to molasses, this dark black, gooey stuff, it's not nearly as bad," said Hush, who takes two tablespoons of iron-rich molasses medicinally and uses herbal teas to help any ailments that may arise.
He believes that the best way to satisfy a sweet tooth is with fruit. "And I'm not talking about fruit juices. Juices are are another delivery system for sugar. Luckily, we have fruits that are extremely sweet," said Hush, who said he eats "tons" of dates.
Another dietary key, he said is to "crowd out the bad with the good and the good has to be better than the bad. You can't just have low-fat Doritos or low-salt Doritos. That's not going to work. That's the lie that people have been telling themselves in our country," Hush said.
The Russell Library lecture runs from 6 to 7:30 May 31 in the Hubbard Room at 123 Broad St. For information, see russelllibrary.org. For more on Hush's Food & Movement program, see Famtusa.org.
Hush recommends Gary Taubes' book, "The Case Against Sugar."
Cassandra Day — The Middletown Press